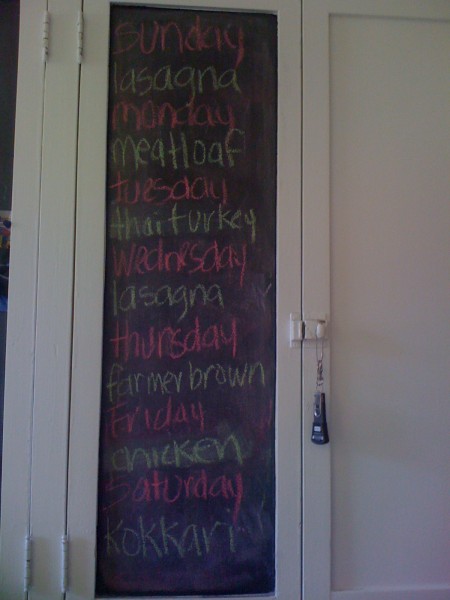 If it's Sunday it must be lasagna! Tonight's was my best ever. Veggie lasagna with zucchini, mushrooms and olives. What made it special this time was the fresh basil and parsley. I usually use dried.
Monday is easy night. I picked up a premade meatloaf and salad from Trader Joes.
I love the recipe I found on A Little Yumminess for Stir-fried Minced Chicken (or Turkey) with Basil. I made a few modifications and changed up the veggies. It's a favorite in the house so it's on heavy rotation right now.
Wednesday is leftover Lasagna night. It's an easy reheat since Mitch and Izzy will be on their own. I have a photography class for the next few weeks on Wednesdays, so I need to make sure that I plan enough leftovers for them each week.
Yay for Farmer Brown! We had dinner with a Jaime as a thank you to her for helping me polish up my resume.
Izzy and I nibbled on the leftover minced turkey while Mitch power napped for his Friday night poker game.
We considered trying to go to Kokkari for dinner, but after two nights out during the week, I was kind of beat. The only problem was I didn't take anything out of the freezer to prepare for dinner. I fell back on my go to dinner when I'm too tired for anything else–hot dogs! I know totally uninspired, but that's the way it goes sometimes.