We went down to Arata Pumpkin Farm today. I wanted to start a Halloween tradition with Izzy by picking out pumpkins at a real pumpkin farm. We picked Arata Pumpkin Farm because their website said they had a pig in their petting zoo. We really wanted Izzy to meet a pig since it was the first animal sound she learned to make. Unfortunately, the pig is no longer a resident. The woman selling pumpkins was a little offended when I asked her if he was Christmas dinner last year. Izzy still had fun with the slightly aggressive goats. In fact, she learned how to say "goat" today.
There was a lot to do at Arata Farm in a surprisingly small space. You could rent out picnic areas, there was a small train ride, a hay ride, haunted house, hay bale maze, sword fighting show, bounce house, barbecue. You name it, they had it. Except for clean bathrooms. They didn't have those.
We walked around the property a bit after the petting zoo and took some amazing photos of our beautiful kid.
Izzy spent several minutes trying to move and pick up this pumpkin.
When she got really frustrated, I helped her find a pumpkin just her size.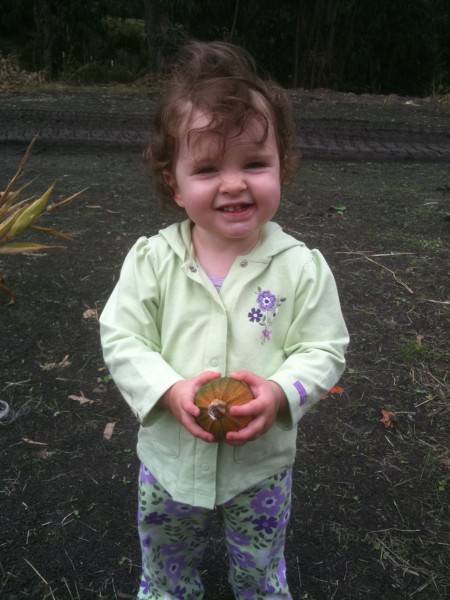 Here's Izzy and her Children of the Corn moment.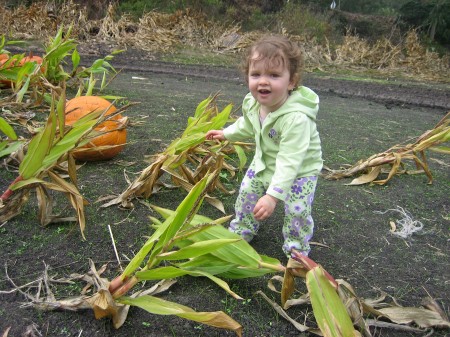 Awesome family day out and about.
Man, we need to get a modeling contract for this kid. She looks really commercial in this photo, but I think she has the potential for high fashion. Look at her eyes! She's smizing. Tyra would be proud.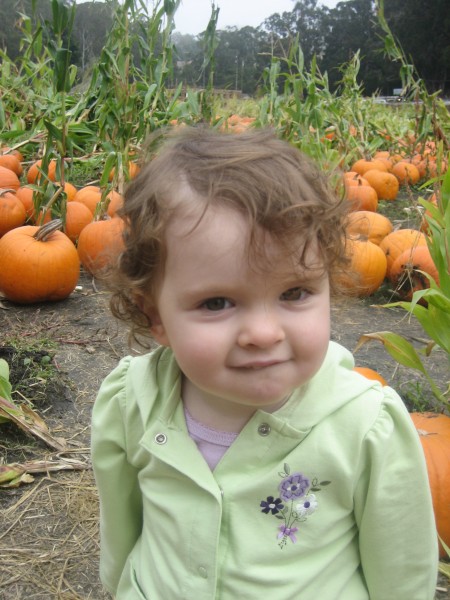 We were walking around the pumpkin farm, and I was thinking to myself…You know what this place really needs? A giant metal, rust covered gorilla. And like I said earlier, this place has EVERYTHING (except clean bathrooms)!
We stopped by the bounce house when we first arrived and tossed Izzy in there. She wasn't interested, so we pulled her back out. There was a climbing structure with slides and bridges that she was more interested in, so we took her to that instead. Later into our visit, we went back to the bounce house and threw her back in.
She was having a really good time. There were two adorable little girls, sisters, showing Izzy how to have fun in the bounce house. The three of them were great. Then a bunch of rowdy boys showed up and it was absolute mayhem. The older girl was protecting Izzy from the roughhousing until I could get in there and pull her out. There was another little girl about Izzy's age that I rescued while I was in the house. I have a feeling if Izzy sees one of these again, she's going to scream to get in.
It was time to pick out pumpkins. I didn't want any of the big ones from the patch. Not going to deal with carving this year, so I sat Izzy down while I looked through their smaller pumpkins and gourds. They had some really neat looking pumpkins. I wanted to take more photos, but my camera battery died.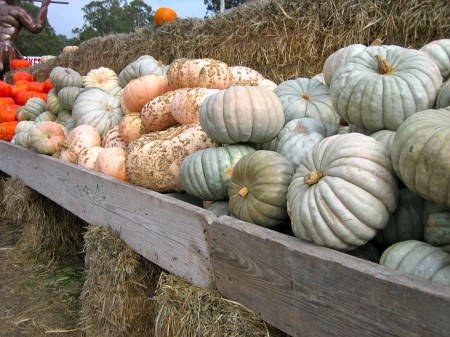 Izzy has been incredibly affectionate lately. She picked up this ear of corn, cradled it and gave it a hug.
Here's my selection of pumpkins and gourds.
I should have gone to bed hours ago. I can't believe it's 1:00 in the morning. I'm going to pay for it tomorrow when Izzy wakes up bright and early. I won't be able to sleep in tomorrow because my friend Kevin is coming over to show me how to make homemade fresh mozzarella. A few years ago, we attempted to make cheese several times with one mildly successful batch. He took a class recently at Urban Kitchen and now understands where we went wrong on all of our other attempts. I'm so excited about the prospect of finally getting this thing done right!