1 head of romanesco, chopped and steamed until tender
1 cup breadcrumbs
1/2 medium onion, minced
3 eggs, beaten
6 – 8oz Cheddar cheese, grated
Spike
Pre-heat the oven to 375°F. Chop romanesco into uniform pieces. You don't want big chunks or the patties will fall apart. Throw everything into a bowl and mix thoroughly. Spray a baking sheet with cooking spray or line it with parchment paper. Shape the mix into small patties. Bake 15 minutes. Flip and bake 12 more minutes.
We went down to Arata Pumpkin Farm today. I wanted to start a Halloween tradition with Izzy by picking out pumpkins at a real pumpkin farm. We picked Arata Pumpkin Farm because their website said they had a pig in their petting zoo. We really wanted Izzy to meet a pig since it was the first animal sound she learned to make. Unfortunately, the pig is no longer a resident. The woman selling pumpkins was a little offended when I asked her if he was Christmas dinner last year. Izzy still had fun with the slightly aggressive goats. In fact, she learned how to say "goat" today.
There was a lot to do at Arata Farm in a surprisingly small space. You could rent out picnic areas, there was a small train ride, a hay ride, haunted house, hay bale maze, sword fighting show, bounce house, barbecue. You name it, they had it. Except for clean bathrooms. They didn't have those.
We walked around the property a bit after the petting zoo and took some amazing photos of our beautiful kid.
Izzy spent several minutes trying to move and pick up this pumpkin.
When she got really frustrated, I helped her find a pumpkin just her size.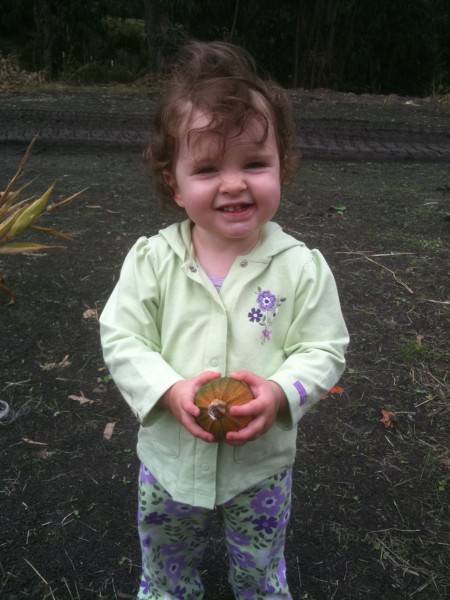 Here's Izzy and her Children of the Corn moment.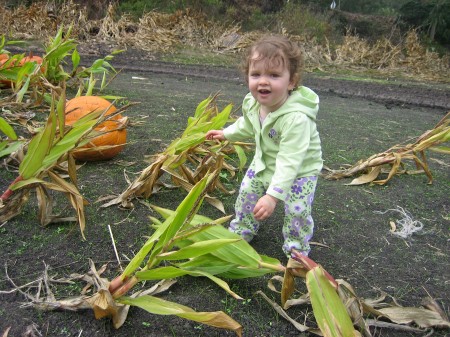 Awesome family day out and about.
Man, we need to get a modeling contract for this kid. She looks really commercial in this photo, but I think she has the potential for high fashion. Look at her eyes! She's smizing. Tyra would be proud.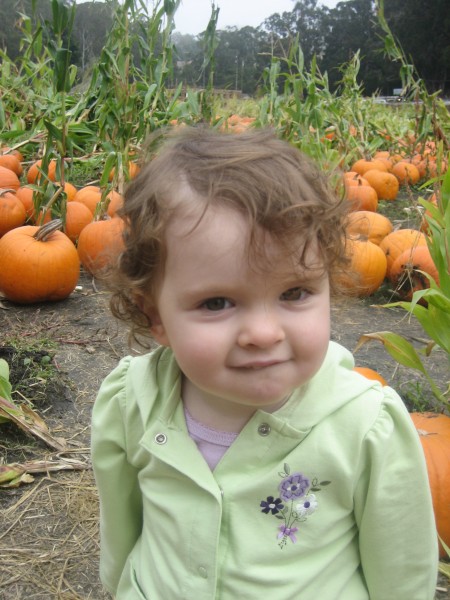 We were walking around the pumpkin farm, and I was thinking to myself…You know what this place really needs? A giant metal, rust covered gorilla. And like I said earlier, this place has EVERYTHING (except clean bathrooms)!
We stopped by the bounce house when we first arrived and tossed Izzy in there. She wasn't interested, so we pulled her back out. There was a climbing structure with slides and bridges that she was more interested in, so we took her to that instead. Later into our visit, we went back to the bounce house and threw her back in.
She was having a really good time. There were two adorable little girls, sisters, showing Izzy how to have fun in the bounce house. The three of them were great. Then a bunch of rowdy boys showed up and it was absolute mayhem. The older girl was protecting Izzy from the roughhousing until I could get in there and pull her out. There was another little girl about Izzy's age that I rescued while I was in the house. I have a feeling if Izzy sees one of these again, she's going to scream to get in.
It was time to pick out pumpkins. I didn't want any of the big ones from the patch. Not going to deal with carving this year, so I sat Izzy down while I looked through their smaller pumpkins and gourds. They had some really neat looking pumpkins. I wanted to take more photos, but my camera battery died.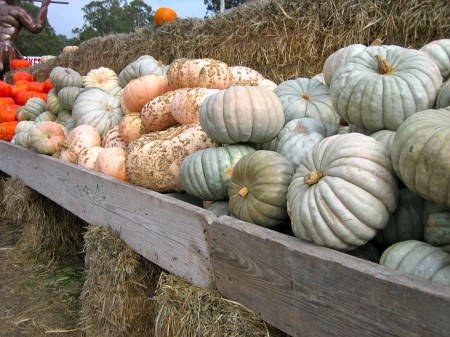 Izzy has been incredibly affectionate lately. She picked up this ear of corn, cradled it and gave it a hug.
Here's my selection of pumpkins and gourds.
I should have gone to bed hours ago. I can't believe it's 1:00 in the morning. I'm going to pay for it tomorrow when Izzy wakes up bright and early. I won't be able to sleep in tomorrow because my friend Kevin is coming over to show me how to make homemade fresh mozzarella. A few years ago, we attempted to make cheese several times with one mildly successful batch. He took a class recently at Urban Kitchen and now understands where we went wrong on all of our other attempts. I'm so excited about the prospect of finally getting this thing done right!
The house is still tidy from the night before, Mitch is sleeping in, the kitties are eating wet food in the kitchen and I have Isadora all to myself.
Mitch took this video using his iPhone (pre-3G S) when we were killing time before going to the airport to come home.
This was Izzy's first time seeing the ocean. I can't believe how she just ran towards it. I'm glad she's not mobile on her own yet. This kid has no fear.
Shout out to my friend Steve J for the new moniker for San Diego! It cracked me up when I first read it.
We went on our first family vacation together last week to San Diego. We flew down on Monday afternoon on Virgin America–best airline ever. I hope they expand their route service because I don't want to fly anyone else. Why, you ask? Well, customer service is bar none. I called a few days before our flight to book our seats. Virgin America couldn't find our reservation. I made them through Expedia, so I got of the phone with VA and called Expedia to find out what the problem was. While I was on hold with Expedia, a Virgin America rep called me back to tell me she found my reservation. Expedia combined our first, middle and last names so it was hard to find in the VA system. Talk about service! She kept looking for me and she didn't have too. She could have just given me the brush off and let me deal with the hassle with Expedia. The other reason–WiFi! It kept Mitch busy and happy.
The rep booked us in an aisle and a window seat with the hopes that the flight wouldn't fill up and we could use the middle seat for Isadora for free. Good intentions, but the plan didn't work out. Both legs of the flight were pretty full, so we had to have Izzy sit on our laps. It wasn't too bad actually. I bought some new little toys for her that she hadn't seen before the flight, so they kept her busy for the most part. I also came prepared for the pressure changes and brought a bag full of wet wash clothes. As soon as Isadora started to tug on her ear, I gave her a soggy cloth for her to suck on. She was swallowing the water from the cloth and relieving the pressure in her ears. When she grew tired of the cloths, I stuck a boob in her mouth and that kept her distracted long enough to get through the pressure change.
I didn't realize that we were traveling to San Diego on the off-season, which now explains why we got such a great rate on the room. I had originally booked a room in the tower of the Hilton Resort on Mission Bay because it was pretty cheap. When we finally made it to the hotel (Rental process at Avis took forever! So banal I won't even describe it here), we were fried and just wanted to check in to our room and unwind. The clerk told us we couldn't check in until 4:00. It was 3:30. Bummer. I asked if we could have early check in and he said he could not accommodate. I'm getting a little feisty, but simmer down quickly. I tell him we'll go have drink at the bar and will be back at 4:00.
We got a glass of wine and some nibbles–a chicken quesadilla and some tuna tartar (delish, BTW). I went back to the front desk around 4:45. Still, the room wasn't ready. The clerk said to wait 15 more minutes. I had a full belly and a rosy glow from the wine, so I acquiesced. Mitch and I were waiting with Izzy outside in the patio. A young woman stopped by and started to fawn all over the baby. She was giving Isadora keys and her blackberry and won her heart quickly. I didn't pay attention to the time and 30 minutes passed.
Another trip to the counter only to find out that the room still wasn't ready. I explained to the clerk that I had been rather patient while waiting for my room over two hours and I wasn't going to wait any longer. He needed to provide a room right now and I expected it to be an upgrade from what I ordered at no additional cost. I got it. And a handful of coupons to use at the hotel restaurant.
The room was awesome. Bigger than our living room, with a king sized bed, a comfy reading chair and ottoman, a huge TV (we never watched it though). It also had a sunken sitting area with small love seat and wet bar. Just beyond that, a private lanai. Cushy! We checked the room for hazards and put outlet covers in the exposed sockets and let Isadora have free roam. She taught herself how to crawl up and down the stairs. It was pretty cute!
The first travel day was tiring and we all went to bed by 10:00.
All praise to black out curtains!
Isadora slept in each day on vacation between 8:00 and 9:30–and that's having at least one good nap during the day, and bedtime by 9:00. We all slept so good due to those blackout curtains. I'm going to get some for home.
When we woke up on Tuesday and drove out to Belmont Park for breakfast. We went to Wave House for breakfast. They advertised "Best Breakfast on the Beach." I would hate to have had the second best breakfast on the beach because the food/service here was craptastic. No wonder they only got a 2 1/2 star rating on Yelp. I will be adding (subtracting?) to that soon with a one star rating. No need to go in to detail here.
After breakfast we walked from Belmont Park north to the pier just off Garnet Avenue. Isadora was awake for some of our stroll, napped for most, then woke up again towards the end.
It was a great walk, about four miles round trip. We enjoyed some of the beach house architecture along the way and enjoy making fun of the ugly cottages even more. It was fun sharing the path with other people strolling leisurely by foot. There were plenty of bicyclists, skateboards and rollerbladers dodging in and around the throng of casual walkers.
We made our way back to the hotel after the walk and changed into our suits. We took Isadora to the pool and splashed about even though it was a bit on the chilly side–maybe 72 and overcast. The water was cool, but not intolerable. After a bit, we hopped in to the hot tub to warm up.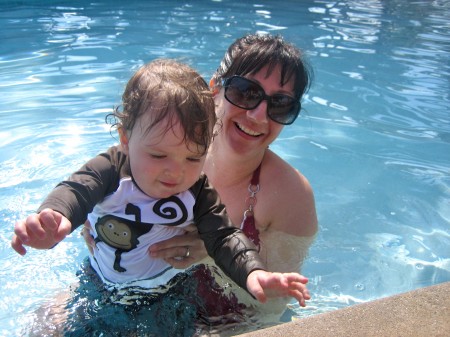 Mitch was going a little stir crazy with the lack of internets in our room, so Izzy and I went back to dry off and rest while Mitch pointed and clicked to his heart's content on the free WiFi down by the pool. We packed Izzy up and went to dinner at Margo's Mexican Grill. It got decent ratings on Yelp, so we figured we couldn't go wrong. We didn't the food was great and the margarita was better. Izzy slept through the entire meal. We transferred her back to the car and got to the hotel. She woke up briefly for a quick bath, but was settle back into her crib and asleep right away.
Another slow morning for waking up. I'm pretty sure this was the day we slept in until 9:30. Awesome. We strolled to the hotel restaurant and stuffed ourselves at the all you can eat buffet. Izzy ate blueberries until she was blue in the face. I also let her have a taste of pancake. It was your standard, nothing to write home about, fare. After we stuffed ourselves, we packed up and headed to the San Diego Zoo.
I've heard great things about this zoo, and they were all true. We went to the children's zoo first. The exhibits were laid out nicely, allowing Isadora to peek at the animals while still in her stroller. Being able to leave her in the stroller was definitely a back saver for us parents. At the end there was a petting zoo with goats and sheep. The petting zoo set up is pretty awesome. There is a covered, chained off area in the back. The animals are free to come and go, but people are not allowed to cross the chain and bother the animals. If the critters don't want their ears pulled and eyes poked by uncoordinated babies they can go hide out as long as they want to.
The sheep never ventured out while we were there, but there were three or four goats who would come out and get some loves and then head back into the chained off area for a snack (we also were not allowed to feed the animals). Izzy squealed with delight when a goat approached her. She grabbed him around the neck and gave him a hug. Then she kissed him. Or at least I hope it was a kiss. She's been a little bitey lately.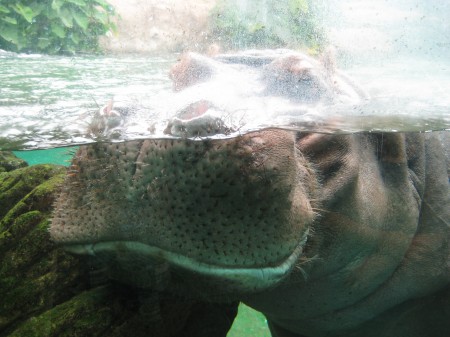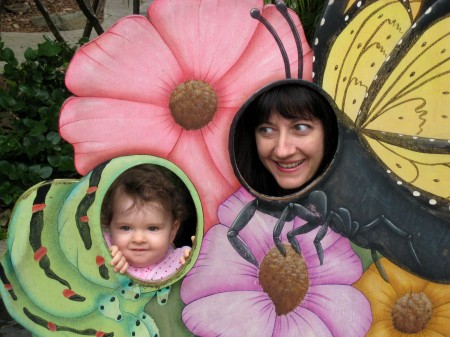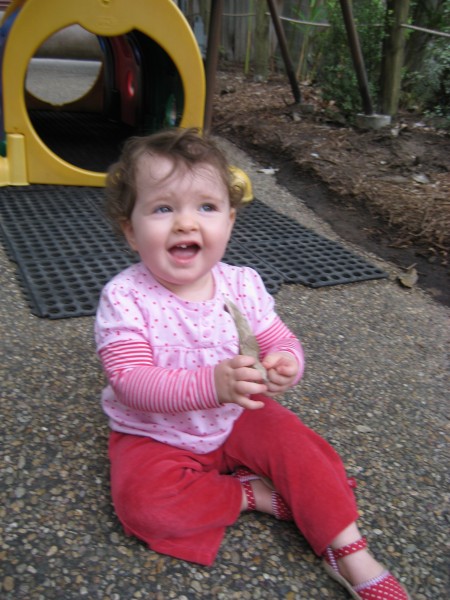 We thought about grabbing a bite to eat at the zoo, but the prices are so inflated and we already spent $32 each to get in (I had a $3 coupon), we decided to go back to the hotel to eat. Since we had a refrigerator in the room, we went to Whole Foods the night before and stocked up on some fruit, yogurt and other snacks. We had some nibbles and got changed. We were going to go swimming, but a friend I haven't seen in years met me at the hotel. Bekka and I went to the bar for a glass of wine while Mitch and Izzy made their rounds in the pool and hot tub.
I had a great visit with Bekka. She's a lot of fun and a total crack up. I realized how much I missed working with her, but was glad that we were able to reconnect. I hope to see her again soon.
Mitch took Izzy back to the room and got her bathed and changed and came to the bar to enjoy a glass of Zin. Bekka and I said our farewells, and then the family headed out to dinner at the Bay Park Fish Company as recommended by Elena. We had awesome fish tacos and Mitch had a mediocre glass of Malbec. Isadora, the saint baby, slept through the entire meal. Was easily transferred back to car, and then crib at hotel. Another early night for us too.
Our last full day in San Diego was unplanned. Mitch really wanted to go to LegoLand, but I was trying to convince him that it wouldn't be fun for Isadora–just a bunch of stroller rides back and forth with nothing age appropriate for her. It wouldn't be fun for me either as I had just thrown out my back the day before while tossing Isadora in the air. I didn't want to spend another day on my feet. I wasn't winning the argument though. And then, I threw down my trump card: the entrance fee was $65 per person. That got him. In all honesty, I really want Mitch to go to LegoLand. I know he will enjoy it. I promise we'll go next summer when Izzy is a little older, and I'm less hobbled.
We started out like the day before, stuffing ourselves on hotel buffet. We were walking back to the hotel trying to figure out what we would do for the day when I spotted a little shack on the beach with bicycles lined up next to it. I approached and realized it was a rental shop. Yay! We were outfitted with two beach cruisers; Mitch's had a trailer attached for Isadora to ride along. We rode north as far as we could, and then got lost in the bleakest trailer park I've ever seen. We finally found freedom and I was so relieved. I was beginning to go stir crazy looking at one sad, run down mobile home after another. I didn't see any people which was quite odd. I was starting to wonder if the place was inhabited by zombies and we had the good fortune of getting lost during the daylight hours when they were too afraid of the sun to come out and eat our brains. But I digress.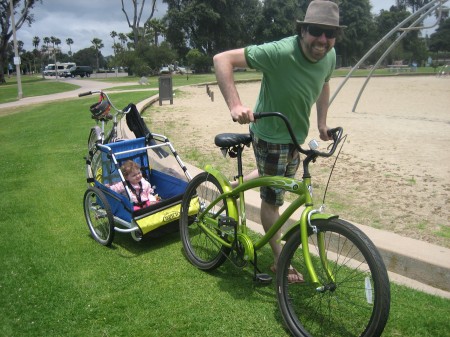 Mitch, being the sound navigator that he is, got us out of there before panic truly set in. We were back on the path south towards the hotel. There are acres and acres of parkland north and south of the hotel. We pulled over to one of the play areas to push Izzy in a swing. I don't think she's too impressed with swings.
We were done with our bike adventure and dropped them off at the rental shack. We discussed earlier about hiring a babysitter so we could go sailing or ride jet skis. I picked the Hilton specifically because they claimed to offer babysitting services. They don't really provide babysitting services; they provide a telephone number of a woman who will come to your room and babysit. There is a three hour minimum at $17. We passed.
Wondering what to do next, we spotted a little shack out on a pier. We approached and lo and behold, it is the watersports rental shop. Mitch inquired about an 18′ sailboat, and the next thing I know, the three of us are on a little tour of the cove. I was really scared. The only thing I know about sailing is that the boats often tip over. I don't know how to swim very well, so that had me terrified. Good thing I was so terrified, because it kept the seasickness at bay.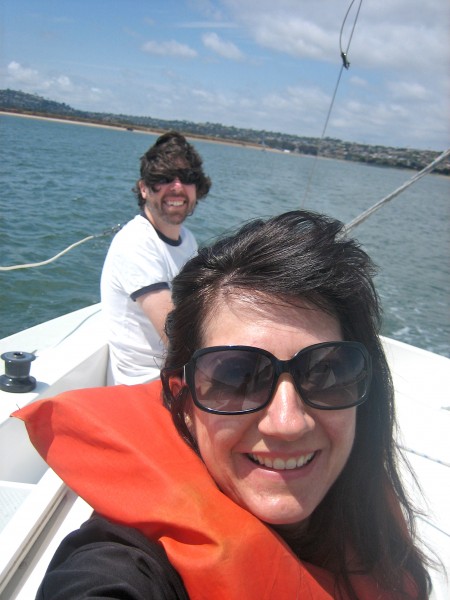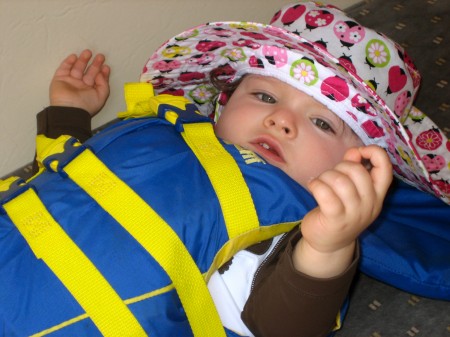 Mitch is a great sailor, and I was slowly becoming comfortable with the ride. In fact, there were several points during the trip where I downright enjoyed myself. I promised Mitch we can go sailing again. We returned the boat, and hopped into the pool.
It was time for dinner and we went to Hash House A Go Go. The server advised us that we ordered too much food, but we were starving and couldn't make choices. The Caesar salad was great! The sweet onion rings with chipotle sauce were divine. We could have shared a single entree, but we wanted different things. Mitch got the meatloaf with horseradish mashed potatoes. He was in love. I got the chicken and waffles with maple reduction sauce. Mitch was in love again. So was I. It was amazing. I wish I was able to bring it home with me. We were slightly disappointed that we ordered too much food when we heard what was on the dessert menu–snickers bread pudding! We almost ordered it, but decided against it. We cut our evening of gluttony short. Hash House has been around for a while. It'll be there when we go back. Oh yeah, Izzy slept all through this meal too!
Time to go home, so we packed up our suitcases and checked out of the hotel. We had some time before our flight took off, so we stopped by Mission Beach to play in the sand for a while. Izzy had fun putting disgusting things into her mouth. I had an adventure jamming my finger between her lips to dig out what ever she just crammed in there. Fun times.
We made it to the airport, dropped off the rental and checked our luggage. Izzy was mellow the whole time. Our flight was delayed, and I started to get antsy. I was ready to be back home. I was really missing the kitties. We finally boarded the flight and had an easy, albeit crowded, flight home. We picked up our suitcases and hopped on the parking shuttle back to our lovely little Prius. What a delightful car to drive after four days in that janky POS from Avis. A quick jaunt on the freeway and we were home in a matter of minutes (thank you I280).
As much as we loved our vacation, we love coming back home even more.
We went to the Academy of Sciences today with Sarah and Ethan. They have a family membership so we got to go during member only hours (less crowded) and it was free! I went many times as a child and it was so much fun to remember various field trips and visits with my parents.
Izzy had so much fun slapping the glass and screaming at the fish. I want to take her back, when she's more mobile. It was kind of tough on me putting her in the stroller to go to the next window and then taking her out so she could get a better look at the fish. I'm so glad I'm able to share this magical place with her. Although the building and exhibits were renovated and given a more modern look, there were still enough things to remind me of my visits there: the alligators, the whale bones, the sad taxidermied animals. But what I remembered most was the swinging pendulum. It's there to represent the movement of the earth. It's really quite fascinating. As it moves, it knocks down little pellets that someone painstakingly stood up.
Of the three times I remember being spanked for being "naughty," one of them was at the the swinging pendulum. I was there with my parents and it was time to go in to the Planetarium for a show, but I didn't want to leave the swinging pendulum. I loved watching the silver ball swinging back and forth and knocking down the pellets. I was so entranced that I ignored my dad's commands to "come here!" Yeah, well. No, dad. I am not going to come here. I'm busy. It's a good thing I'm not terribly scarred by that experience. 😉
I hadn't been feeling well for a couple of months. I chalked up to being a new mom with a baby who refused to sleep through the night. Sleep deprivation can really take a toll, you know. Over the last few weeks, I started to call in sick to work more frequently. I thought it was because I was not feeling very inspired at work and I was using the most minor of excuses to not go in.
On Wednesday morning around 2:00 a.m., I woke up with a pinching pain on my right side. It felt like someone came in and pinched my intestine with all their might and then ran away. It really took my breath away. I struggled, but eventually fell back to sleep. I woke up again at 4:00 a.m., got out of bed and made it to the bathroom just in time. I'll keep the events of the next 90 minutes to myself, thank you very much. I thought I had food poisoning (Misdiagnosis #1).
Since I didn't get any sleep, I canceled my morning meetings to rest with plans of going in to the office in the afternoon. I just couldn't do anything to feel better though so I decided to take my afternoon meetings by phone from home. I made it through the 1:00 Product Page Redesign kick off, and skipped the All Staff Meeting to take a nap. I planned to join the Site Redesign Kick Off at 3:00, but my body had other plans in store for me.
I woke up shortly after I fell asleep and was in excruciating pain. I was lying on the bed curled up in the fetal position, and all I could do was moan. I moaned so long that my face went numb. Mitch came in to check on me and asked if he could do anything.
Me: oooooohhh…….ooooooohhh………………
Mitch: Should I take you to the hospital?
Me: ooooooooooooooooooohhhhh……………..leave me alone……oooooooooohhhh
Mitch: I think I should take you to the hospital.
Me: Noooooooooo…………..I'm just constipated (Misdiagnosis #2).
He shook his head and left the room and I passed out again and slept for another hour and a half.
I woke up around 5:00 p.m. I realized I hadn't eaten since the night before, but I wasn't really hungry. I knew I had to force myself to eat something because if I don't eat enough, it affects my milk production.
It took forever, but I eventually found the strength to make some soup for dinner and it took forever to choke it down. We got Izzy fed and put to bed and then the pain started again around 10:30 p.m. This time, I dropped to my knees and writhed on the foyer floor. I figured I was suffering from something more than just a bout of constipation. I asked Mitch to look up "Intestinal Blockage" on the internet and find out what we're supposed to do to treat it (Misdiagnosis #3). The internet told us to go to the hospital.
It's cold and rainy and I haven't showered or changed my clothes and I do not want to go anywhere! And then I was gripped by the pain again. I told Mitch to call Shelly and get her over here. Decide who will stay with baby and who will take me to the hospital.
Shelly opted for baby watch and Mitch was going to take me to the hospital. He hailed a cab instead of driving because we thought it would be easier. I swear, the driver was trying to kill me. With every slam of the brakes, and hitting of the gas pedal, I screamed louder and that asshole driver drove mach speed over ever single pot hole in San Francisco before finally depositing me at the emergency room. He is so lucky I was out of my mind with pain that I wouldn't recognize him to hunt him down later and cause him grievous bodily harm. I did, however, curse his entire family with a Pox and I am certain they are suffering for it now.
Once inside the emergency room, Mitch went to the window to get me checked in. I couldn't get comfortable in the chair so I asked Mitch to get me a blanket so I can lie on the floor. I writhed in pain on the floor for about 10 or 15 minutes before they called me in. If I was in my right mind, I would have asked Mitch to take a photograph of me. It would be in the hands of the CPMC Board of Directors as well as the staff at SFGate.com, Chronicle, 7 on Your Side and every other local media I could find. Deplorable, I tell you.
I was called into a room for further admittance questions and sent back out to the waiting room floor. Another not brief enough wait passed and someone came out with a wheel chair for me. I crawled in and he started to wheel me backwards with my feet dragging on the floor to the examination room. Then without warning he quickly flipped me around and shoved me forward all the while my feet were still on the floor. We stopped short when the soles of my shoes grabbed the floor, and I pitched forward and nearly fell out of the chair. I screamed, "F*ck!" because that is what I do when I am in pain. Then the asshat ran in front of the chair and grabbed my legs, lifted them up higher than my hips and then roughly placed them in the leg holders. That really hurt, and I hissed, "What the f*ck is wrong with you? Can't you see I'm in pain?" He got me into the examination room and tried to help me on to the table. I turned to him and screamed, "you touch me one more time mother f*cker, and I WILL kill you." His family, they too, have now been cursed with a Pox.
A nurse came in right away and hooked me up to an IV and gave me a shot of morphine. Finally a moment of peace on a comfortable bed. Please keep in mind I'm comparing this to a filthy ER floor, and also the morphine kicked in within a matter of minutes. I was in Shangri-La for all I knew.
Mitch was by my side during this ordeal. I'll never forget the look of fear and horror on his face as I was lying on the bed. I felt bad for him because it's now after midnight, and if I have to stay at the hospital, I know it's going to be rough going for him to fly solo with Izzy.
Oh, and the lady across the room from us was a total nut-ball, and not in a good way. She kept screaming for the nurses to adjust her pillow and then proceeded to brag about how great she felt. I hated her. Her family? Yes, they now have the Pox.
The doctor came in and told us the game plan: continue the morphine (yay!) until they can get me in for an CT Scan of my innards, oh and also they were going to do a pelvic exam. A pelvic exam! Did I mention I hadn't showered or changed my underwear since the day before! Oh god, that horrible mantra, always wear clean underwear in case of an emergency. I always thought, if there's an emergency who the hell cares what state your underwear is in? Well, now I know. I care, dammit. I've learned my lesson now, thank you very much. I will change my underwear five times a day just to be sure that they will always be clean in the event I need another emergency pelvic exam.
Once we knew what was going to happen in the short term, I sent Mitch home. No need for him to sit in an uncomfortable hospital chair watching me nod out on my morphine high until they can do the scan.
The CT Scan showed something wrong with my appendix, but it wasn't a normal looking appendicitis. They transferred me to a hospital room upstairs around 4:00 a.m. and told me they would resume investigation in the morning.
That first night in the hospital was a barrel of laughs! I was lying there in the dark in an unfamiliar room listening to the person in the bed next to me snore. I was racked with the most horrible empty feeling as I realized this was my first night away from Isadora ever, and the first night in many years that I was separated from Mitch. The chasm of despair and loneliness was so deep that I laid there sobbing uncontrollably. The nurse came in and asked me what was wrong. I think she was expecting me to say I was scared or I had pain, and seemed really surprised when I told her I missed my family.
My new roommate sucked, but in a completely different way than the last one. This new roommate had night terrors and would scream-talk in her sleep every 20-30 minutes. It scared the shit out of me and got me screaming too. Fun times, our little night time opera. I think we should put a band together and take our act on the road.
In the morning, I find out that the roommate also does not speak English and the doctors and nurses do not speak Italian. Did you know that the best way to communicate with someone who does not speak your language is to yell at them in your native tongue? It's true. It works every time I tell you.
When the nurses shuffled in to attend to the neighbor lady, I would hear muffled voices, then louder and louder voices, then a lot of scuffling. The shouts of, "it's for the pain Mrs. Rossi! It's for the pain," would ensue. Things would get knocked over and clatter to the ground. The cacophony would soon settle down and I was left with the comforting sounds of a scared, old woman weeping alone in bed.
Long story short: I asked to be moved.
My new room was paradise. I had unlimited morphine, no roommate, a closed door and a gorgeous view of the eastern part of the city. They still don't know what's wrong with me, but do I care? Hells to the no.
A new doctor came in to tell me that he looked at my CT Scan, and he's convinced it is an appendicitis (Misdiagnosis #4) and I will be scheduled for surgery for some time on Friday. Oh, and I can't eat or drink anything. Did you know I was already coming up on 36 hours of no food at this point and I was facing another 12 to 18 hours of hunger? (Side note: I did lose 6 pounds during this ordeal. Awesome!)
A resident came in a few hours later and looked at my chart, then poked my in the guts and said that the doctor was wrong. I don't have an appendicitis, I have ovarian cysts (Misdiagnosis #5).
I'm thinking great, the rookie is telling me, with an air of authority, that her attending physician is wrong and she is all knowing. That freaked me out and I demanded to speak to the attending. When I had him on the phone, I told him I didn't give a shit what was actually wrong with me, but he better keep his resident in line and that the two of them should sit together in a conference room somewhere and get aligned on what was actually wrong with me and NEVER come into my room disagreeing on the diagnosis again.
I was given a new resident.
I liked Dr. Ramin right away. He was a good looking man with a kind voice and dark eyes. He reminded me of a friend of mine. He still wasn't sure what was wrong with me because some of my symptoms were typical of appendicitis, and others were typical for ovarian cysts–part of the reason why the first resident and attending physician were disagreeing on the diagnosis. Dr. Ramin told me he was going to perform a laparoscopy to figure out what was wrong and then take care of business when he truly understood what was happening.
I was finally scheduled for surgery on Friday at 5:00 p.m. When the time came, I was introduced to the surgical team. All men, and very jocky. I imagined they were probably football players in high school. They were friendly and nice and were blaring Pearl Jam in the operating room. I liked them.
The laparoscopy requires a few incisions, one of which is in the belly button. My belly button! I love my belly button and now it's going to get mangled for this surgery! The horror. I joked with Dr. Ramin, and said, yeah do what ever you have to do to my innards to stop the pain, but please, for the love of god, do not ruin my perfectly round belly button!
I don't know how long I was out, but I woke up to my handsome husband's face and that made me so happy!
So here's the part you've all been waiting for. What was it? An appendicitis or ovarian cysts?
As it turns out, I did indeed have ovarian cysts. Some of which were inflamed and turned into an abscess. That abscess grew down to my fallopian tube and then it ate, yes ATE, my otherwise healthy appendix. Crazy, I know! Right? The offending bits and appendix were removed and the lady parts remained.
The next morning Dr. Ramin came to check on me. He brought his medical students with him to meet me. They were going to watch the surgery, but when they thought it was going to be just a boring old appendectomy, they opted out. I heard Dr. Ramin explaining to them what actually happened while they were outside my room. You should have heard the ooohs and aaahs coming from the students. They were very impressed and truly disappointed to miss out on the experience.
I was given the green light to go home in the afternoon, and I didn't wait around for them to change their mind. Mitch was at the hospital to pick me up as soon as he could and I was safely home by 3:30 on Saturday.
During this time, people kept calling Mitch to see how I was doing (I'm fine folks–I'm a fighter. You know that). Here he is: his wife in the hospital and he's home alone, servicing clients, taking care of the household and a nine month old baby on his own 24/7. No one ever asked him how he was doing.
My husband is a wonderful man who managed to find the strength to make it through this ordeal on his own. He talked to me and several of you on the phone many times a day, wrote me email and text messages and cared for our daughter. He successfully weaned her off of her nighttime feeding and was able to train her to sleep through the night. She's now sleeping in her own crib and we plan to move her out of our room next week.
Next time you see him, pat him on the back and tell him you're proud of him. I know I am.
I'm looking forward to the day when Izzy is big enough to ride a bike. We'll probably start with a Kettler Tricycle. I like the Kettler Air Navigator. It features a parent control handle bar for guidance when the kids are younger. It can be removed later when riding skills are a bit more refined. I especially love the rear basket for carrying stuff. The trike grows with the kidlet and is appropriate for ages 18 months to 5 years.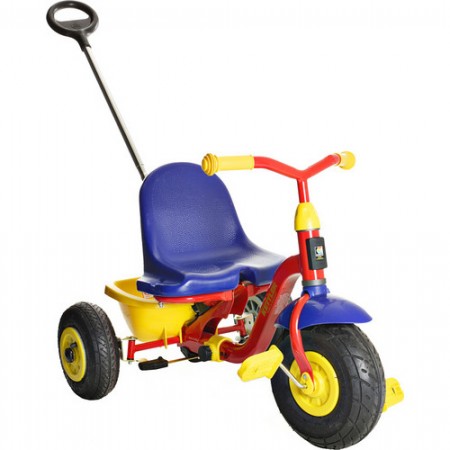 When she gets a little older and is ready for a big girl bike, and can ride along with me, I'm going to get myself an Electra Bike.
Behold the Balloon 3i: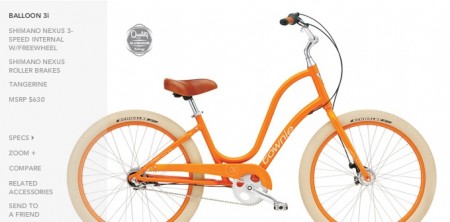 and the Holiday 3i:
I LOVE the color of the Balloon 3i, but I'm leaning towards the Holiday 3i because of the front rack.
We'll pick up the Original 3i from their Amsterdam collection for Mitch. I'm pretty sure he'll like this model.
I can just picture us now, loading our bikes up on the rack on the Prius and driving out to Golden Gate Park to ride bikes. We'll bring a picnic lunch with us and peddle until we find a nice little meadow to hang out and eat. We'll swing by the lakes and feed day old bread to the water fowl before peddling back to the car and head for home.