I want to sew. I really, really want to sew. I have ideas. I have other peoples ideas. I have patterns that my mom used to use to make doll clothes for me when I was little. I just need a few hours, and I can probably sew some really cool things. I need to make a list of all the things I want to sew, and then sketch them out so that when I do have a few spare moments, I can knock out an easy project.
A few things I want to make include:
Doll clothes (I still need to find a non-creepy doll. Any suggestions?)
Pillows for Izzy's room
Draft guard for Izzy's room (more to block out the light and sound from under the pocket door, then the drafts)
Crib ledge liner (she's been gnawing on her very expensive crib and I need to protect it)
Table Tent
What is a Table Tent you ask? It is probably the most amazing thing I have ever seen in my life. (Well, maybe not the most amazing thing. Have you met my daughter? She's pretty amazing.) A Table Tent one of those "why didn't I think of that" projects. Ladies and gentlemen. Behold, the table tent from Colorique: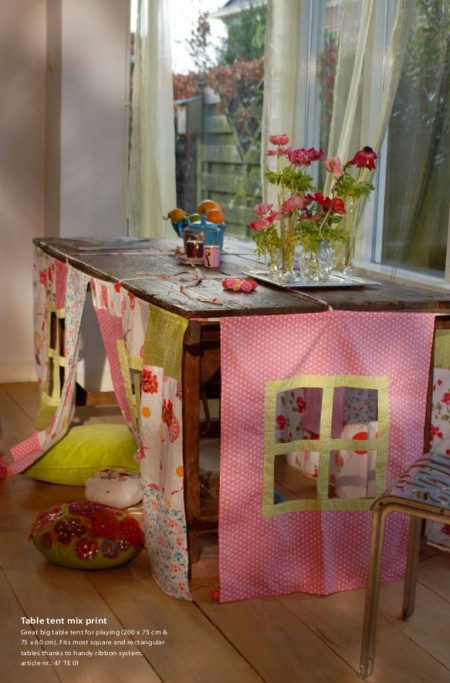 It looks easy enough to make. I love that the table would still be usable with the tent tied onto it. I bet Isadora and Anneke would have so much fun crawling around and in and out of the table tent. I need to bump this up in project priority.
(Image: Flickr Member otrasventanas licensed for use under Creative Commons)
via ohdeedoh