ATTENTION: All Parents, Soon To Be Parents, People without kids, but have friends who are Parents!
GGMG and Sports Basement are hosting Finds and Farewells, a first annual sale of gently used maternity, baby and kids (0-5) clothing and toys.
Saturday, November 14th
Members Only Hours: 8 – 10 a.m.
Open to Public: 10 – 2 p….m.
BUY USED! IT'S GOOD FOR THE ENVIRONMENT AND EASY ON YOUR POCKETBOOK!
BTW: I will have a table set up and selling my wares. Stop by and say hi. If you mention you saw my blog posting, I'll give you 25% off anything you buy from me.
I think we'll also be giving away 10% off coupons for Sports Basement too.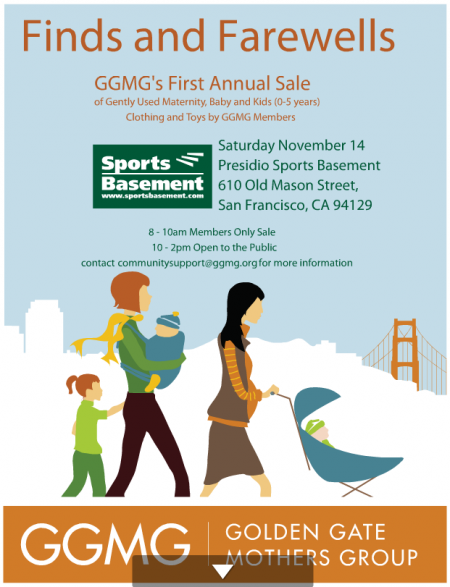 I have a whole bunch of stuff to choose from that is suitable for 0-18 months. Most items are in excellent used to mint condition. Clothes are in good to excellent used condition. There are even quite a few things that are new, without tags. I washed everything, but Izzy outgrew some items before she ever had a chance to wear them. I inspected everything last night and all clothing should be free from stains or tears.