Since Izzy started pulling herself up in her crib, she's been gnawing on it in an attempt to relieve herself of teething pain. I'm really bummed because we paid a pretty penny for this set and plan to use it for quite some time. The crib converts to a toddler bed and then to a full sized bed. I expect it to get us through to college. Now, it looks like the termites have gotten to it.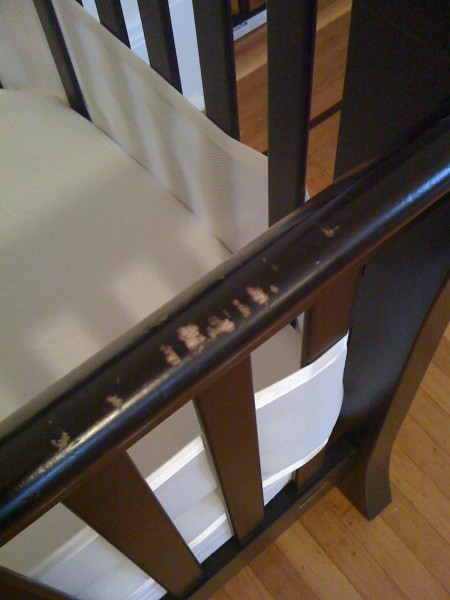 I've been thinking of a way to sew some kind of protector for a while and I finally measured the crib and made some sketches this weekend. I used some fabric that I bought at Ikea and lined it with a cotton batting to provide an added layer of protection. I attached some snaps at the bottom to secure it on the crib. It's easy to take of for laundering.
I also made a crib blanket that has matching fabric on one side and animals in the same colors on the other side.
It felt good to plan, design, and create the vision I had in my head and to see it executed as perfectly as I had hoped even though Murky occasionally thwarted the creative process.
On a side note, Izzy and I spent the afternoon in San Anselmo at a friend's baby shower. Isn't she simply adorable in her little garden party dress?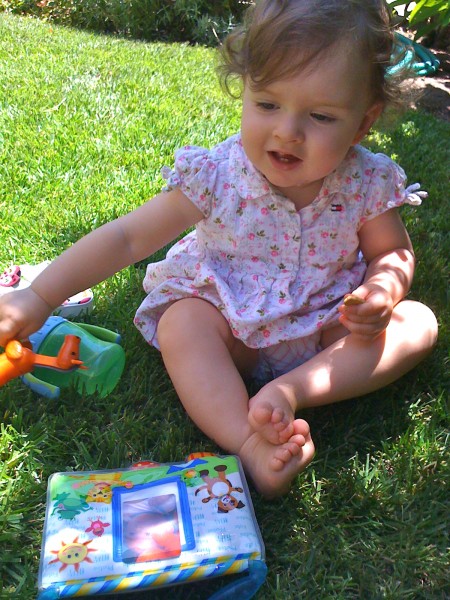 Izzy likes to hang out in her high chair while Mitch is getting a bottle ready for her or when I'm cooking dinner. We'll be introducing her to solid foods in about two weeks. We're going to start off with Happy Bellies Organic Brown Rice Cereal. When she's ready for fruits and veggies, I'm expecting that we'll make her food from scratch using the Beaba Babycook. High goals, yes I know, but now that we have the dishwasher, we should have plenty of time to steam and puree fresh food. Our refrigerator is pretty big too, so we can make big batches and freeze for future use. I'm even thinking about renewing our subscription with Planet Organics, so I can save even more time by having my groceries delivered.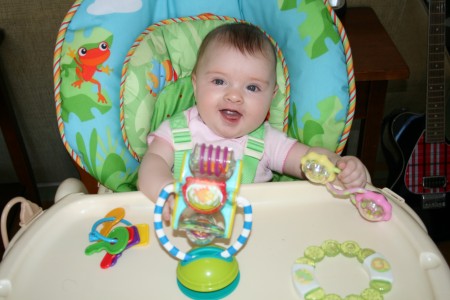 This is one of my favorite photos of Isadora. I took it with the iPhone. I love the lighting and the angle she's looking.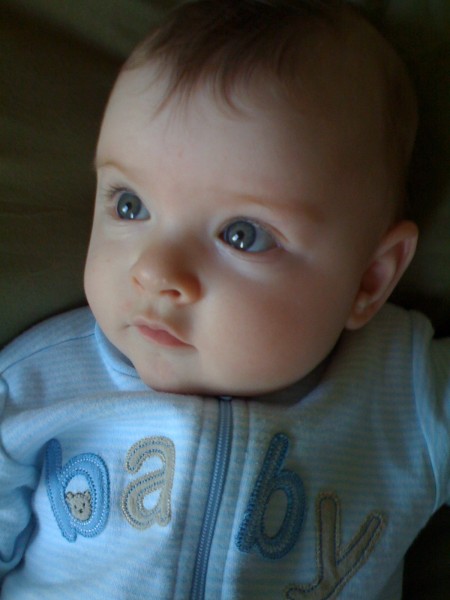 Wherever Izzy is, Kirby is not far behind. He loves her very much.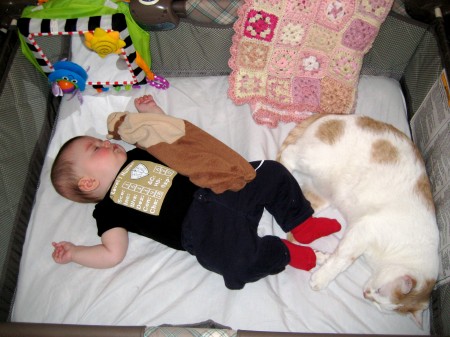 We went to my friend's wedding reception in Atascadero–it was a costume party. Mitch was a pirate, I was a mermaid and Izzy was a lobster. It was pretty hot out so her lobster hat didn't last long.
Another pretty baby shot.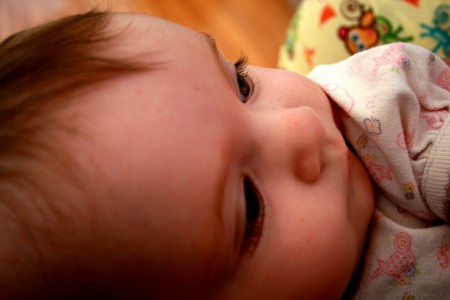 Happy Halloween! We were going to try to make a brief appearance at Cafe Royale, but it was a very long week for me. I was too tired to go anywhere so we stayed in. I love these PJs. Our neighbor received three sets for her son, Dex, so she gave us a pair. They are size 9 mos! She's only 5 1/2. She's baby gigantico.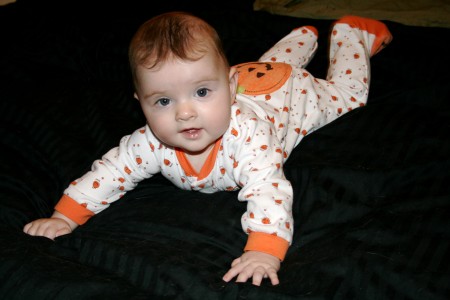 Shelley and I had a full day of Colma/Daly City shopping yesterday: Party City, Pet Store, Target, JoAnn Fabrics and Crafts, Babies R Us. We stopped along the way for lunch at Fresh Choice. It was a busy day for the little baby, and she konked out while we were in the check out lane at Target.
The kitties haven't made an appearance in a while…
Murky looking slightly ashamed for wanting to enjoy the baby's play mat. She knows what a fool Kirby makes of himself when he's playing on it. She does not want anyone to think she is a fool.
Kirby is trying to master high places. I fear for him because I think he has kitty vertigo–he is always falling over. I'm glad it is only six feet and not six stories tall. He should be able to survive that fall.