Here's the final product of my sneak peek last month!
I found a great tutorial for Super Hero Capes over at The Long Thread. The instructions were really easy to follow. I drew out the pattern in about 15 minutes, cut the fabric in another ten, and the sewing and pressing probably took about an hour. All together, this was a quick project, and easy for me to manage over the course of several days since I don't get solid blocks of time for my projects. It was also a fun challenge because I had never done appliqué before. There was no way I would have even attempted it using my old machine. I am so in love with my new Singer Confidence 7470. Sewing is fun again! The appliqué came out great and I'm looking forward to doing more.
Ethan's birthday is coming up soon tomorrow, and I made the Super Hero Cape for him. How did the time get away again? I really did think I finished in time to mail it to him for his special day. Well, a little belated won't be too big of a deal. I hope.
I love the fabric I chose. The lining is from Three Rivers Fabric. I love the blue, red. And orange. So vibrant!
I took the yard to Britex so I could find a corresponding color for the outside of the cape. The clerk helping me was the best! She grabbed several bolts of fabric and helped me choose the best red and orange to use.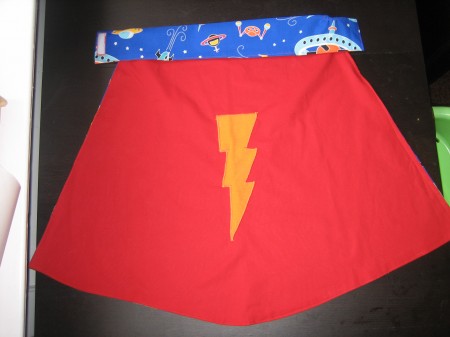 Hope to have few shots of Ethan wearing it soon!
Because this was such a fun and easy project, it will be my go-to gift for little kids as their birthdays roll around. I'm making one for Izzy in lime green with a cupcake pattern for the lining. Stay tuned for photos of the next completed project.