There's a post over at Ohdeedoh talking about meal planning and the various strategies people use. I find other people's strategies very interesting, but I still like mine the best.
For years, I used a template from MS Excel for my Meal Planner. My planner included the meals we were having along with any recipes I didn't already know how to make. I would keep the planner on the fridge and refer to it when I got home from work to figure out what we were going to have for dinner that night. I used the planner on and off over the years, but sort of stopped using it when I needed it most–when Izzy was born.
What I love about meal planning is that you only have to think about what you're going to have for dinner once. Over the next two weeks, you just follow your own orders and it all comes together very easily. I also use my meal plan to build my grocery list. I am much less inclined to buy food items spontaneously because they don't fit in the plan.
I don't have much time to spend on the computer these days. That's sort of why I fell out of using my templates for meal planning. I came up with a new idea–chalkboard paint! We painted two of our cupboards with chalkboard paint and now I can plan things out while I'm in the kitchen. I love it even better than the spreadsheet. It's easier to change and I don't have to waste paper to print out updated versions. I can just erase and edit when necessary.
One of the shortcomings of meal planning is spontaneity. Because I've selected certain meals to be served on specific days, it can be hard to make last minute adjustments to serve additional people if someone stops by unexpectedly near dinner time. The only time it works is if the last minute guest is on a first meal night and not a left over night.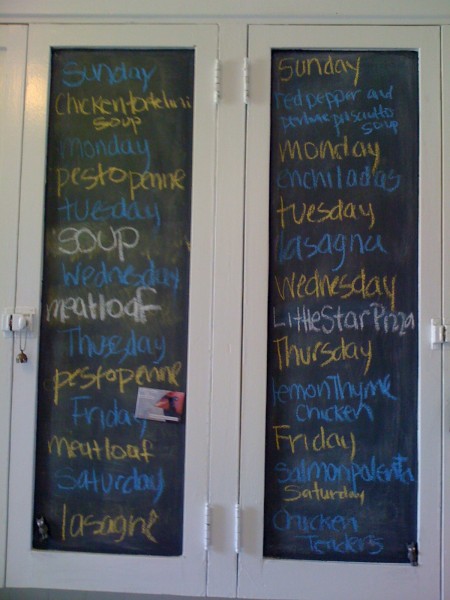 How do you plan out your meals?