I went to the Renegade Craft Fair yesterday and was inspired by all of the awesome work out there. I have so many projects I'd like to do, but so little time. It takes a while to plan out a project, pull out all of my supplies from the craft closet, make the item and then clean up.
Last night was different though. I thought of a project to reuse the cat litter buckets we've been getting lately. I needed more toy storage, but didn't want to buy anything, so I figured we could just use the cat litter buckets. I couldn't figure out how to get the brand label off, so I just got some Mod Podge, colorful paper and images cut from some fabric I bought at Ikea.
Forty-five minutes later and…
Viola!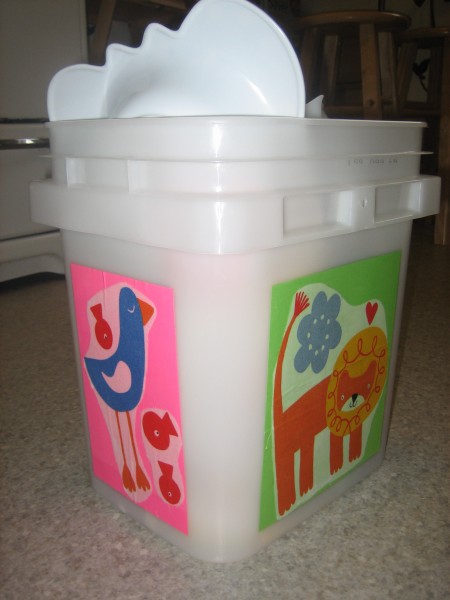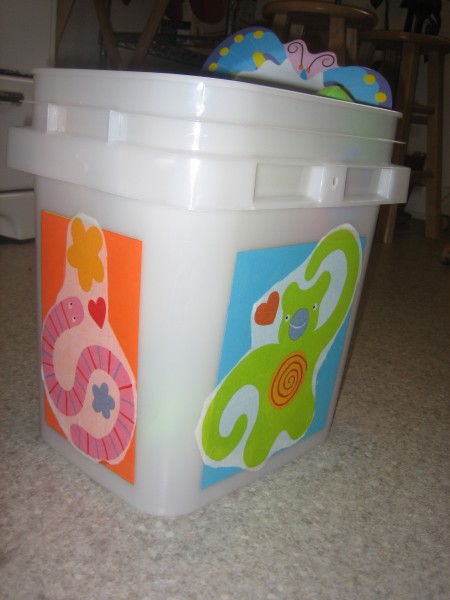 I keep this bucket in the kitchen filled with child sized spatulas, mixing bowls, rolling pin and cookie cutters. I also tossed in some empty, clean and colorful food packaging–jelly bottle, Yo Baby smoothie bottle, puffs containers and a coffee can. Isadora never took to binkies, but we have a ton of them. I put them inside the containers for her and she tries to get them out. It's been a ton of fun so far!