Shout out to my friend Steve J for the new moniker for San Diego! It cracked me up when I first read it.
We went on our first family vacation together last week to San Diego. We flew down on Monday afternoon on Virgin America–best airline ever. I hope they expand their route service because I don't want to fly anyone else. Why, you ask? Well, customer service is bar none. I called a few days before our flight to book our seats. Virgin America couldn't find our reservation. I made them through Expedia, so I got of the phone with VA and called Expedia to find out what the problem was. While I was on hold with Expedia, a Virgin America rep called me back to tell me she found my reservation. Expedia combined our first, middle and last names so it was hard to find in the VA system. Talk about service! She kept looking for me and she didn't have too. She could have just given me the brush off and let me deal with the hassle with Expedia. The other reason–WiFi! It kept Mitch busy and happy.
The rep booked us in an aisle and a window seat with the hopes that the flight wouldn't fill up and we could use the middle seat for Isadora for free. Good intentions, but the plan didn't work out. Both legs of the flight were pretty full, so we had to have Izzy sit on our laps. It wasn't too bad actually. I bought some new little toys for her that she hadn't seen before the flight, so they kept her busy for the most part. I also came prepared for the pressure changes and brought a bag full of wet wash clothes. As soon as Isadora started to tug on her ear, I gave her a soggy cloth for her to suck on. She was swallowing the water from the cloth and relieving the pressure in her ears. When she grew tired of the cloths, I stuck a boob in her mouth and that kept her distracted long enough to get through the pressure change.
I didn't realize that we were traveling to San Diego on the off-season, which now explains why we got such a great rate on the room. I had originally booked a room in the tower of the Hilton Resort on Mission Bay because it was pretty cheap. When we finally made it to the hotel (Rental process at Avis took forever! So banal I won't even describe it here), we were fried and just wanted to check in to our room and unwind. The clerk told us we couldn't check in until 4:00. It was 3:30. Bummer. I asked if we could have early check in and he said he could not accommodate. I'm getting a little feisty, but simmer down quickly. I tell him we'll go have drink at the bar and will be back at 4:00.
We got a glass of wine and some nibbles–a chicken quesadilla and some tuna tartar (delish, BTW). I went back to the front desk around 4:45. Still, the room wasn't ready. The clerk said to wait 15 more minutes. I had a full belly and a rosy glow from the wine, so I acquiesced. Mitch and I were waiting with Izzy outside in the patio. A young woman stopped by and started to fawn all over the baby. She was giving Isadora keys and her blackberry and won her heart quickly. I didn't pay attention to the time and 30 minutes passed.
Another trip to the counter only to find out that the room still wasn't ready. I explained to the clerk that I had been rather patient while waiting for my room over two hours and I wasn't going to wait any longer. He needed to provide a room right now and I expected it to be an upgrade from what I ordered at no additional cost. I got it. And a handful of coupons to use at the hotel restaurant.
The room was awesome. Bigger than our living room, with a king sized bed, a comfy reading chair and ottoman, a huge TV (we never watched it though). It also had a sunken sitting area with small love seat and wet bar. Just beyond that, a private lanai. Cushy! We checked the room for hazards and put outlet covers in the exposed sockets and let Isadora have free roam. She taught herself how to crawl up and down the stairs. It was pretty cute!
The first travel day was tiring and we all went to bed by 10:00.
All praise to black out curtains!
Isadora slept in each day on vacation between 8:00 and 9:30–and that's having at least one good nap during the day, and bedtime by 9:00. We all slept so good due to those blackout curtains. I'm going to get some for home.
When we woke up on Tuesday and drove out to Belmont Park for breakfast. We went to Wave House for breakfast. They advertised "Best Breakfast on the Beach." I would hate to have had the second best breakfast on the beach because the food/service here was craptastic. No wonder they only got a 2 1/2 star rating on Yelp. I will be adding (subtracting?) to that soon with a one star rating. No need to go in to detail here.
After breakfast we walked from Belmont Park north to the pier just off Garnet Avenue. Isadora was awake for some of our stroll, napped for most, then woke up again towards the end.
It was a great walk, about four miles round trip. We enjoyed some of the beach house architecture along the way and enjoy making fun of the ugly cottages even more. It was fun sharing the path with other people strolling leisurely by foot. There were plenty of bicyclists, skateboards and rollerbladers dodging in and around the throng of casual walkers.
We made our way back to the hotel after the walk and changed into our suits. We took Isadora to the pool and splashed about even though it was a bit on the chilly side–maybe 72 and overcast. The water was cool, but not intolerable. After a bit, we hopped in to the hot tub to warm up.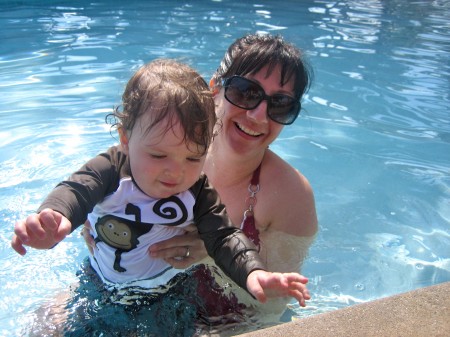 Mitch was going a little stir crazy with the lack of internets in our room, so Izzy and I went back to dry off and rest while Mitch pointed and clicked to his heart's content on the free WiFi down by the pool. We packed Izzy up and went to dinner at Margo's Mexican Grill. It got decent ratings on Yelp, so we figured we couldn't go wrong. We didn't the food was great and the margarita was better. Izzy slept through the entire meal. We transferred her back to the car and got to the hotel. She woke up briefly for a quick bath, but was settle back into her crib and asleep right away.
Another slow morning for waking up. I'm pretty sure this was the day we slept in until 9:30. Awesome. We strolled to the hotel restaurant and stuffed ourselves at the all you can eat buffet. Izzy ate blueberries until she was blue in the face. I also let her have a taste of pancake. It was your standard, nothing to write home about, fare. After we stuffed ourselves, we packed up and headed to the San Diego Zoo.
I've heard great things about this zoo, and they were all true. We went to the children's zoo first. The exhibits were laid out nicely, allowing Isadora to peek at the animals while still in her stroller. Being able to leave her in the stroller was definitely a back saver for us parents. At the end there was a petting zoo with goats and sheep. The petting zoo set up is pretty awesome. There is a covered, chained off area in the back. The animals are free to come and go, but people are not allowed to cross the chain and bother the animals. If the critters don't want their ears pulled and eyes poked by uncoordinated babies they can go hide out as long as they want to.
The sheep never ventured out while we were there, but there were three or four goats who would come out and get some loves and then head back into the chained off area for a snack (we also were not allowed to feed the animals). Izzy squealed with delight when a goat approached her. She grabbed him around the neck and gave him a hug. Then she kissed him. Or at least I hope it was a kiss. She's been a little bitey lately.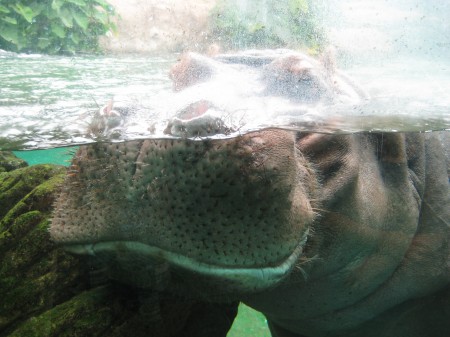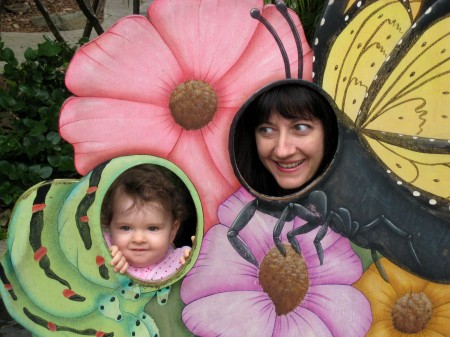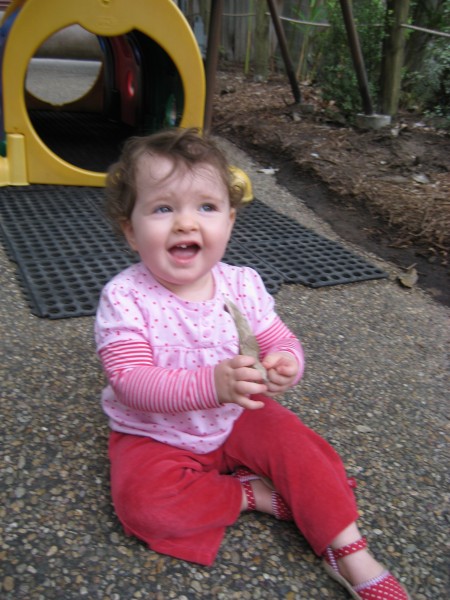 We thought about grabbing a bite to eat at the zoo, but the prices are so inflated and we already spent $32 each to get in (I had a $3 coupon), we decided to go back to the hotel to eat. Since we had a refrigerator in the room, we went to Whole Foods the night before and stocked up on some fruit, yogurt and other snacks. We had some nibbles and got changed. We were going to go swimming, but a friend I haven't seen in years met me at the hotel. Bekka and I went to the bar for a glass of wine while Mitch and Izzy made their rounds in the pool and hot tub.
I had a great visit with Bekka. She's a lot of fun and a total crack up. I realized how much I missed working with her, but was glad that we were able to reconnect. I hope to see her again soon.
Mitch took Izzy back to the room and got her bathed and changed and came to the bar to enjoy a glass of Zin. Bekka and I said our farewells, and then the family headed out to dinner at the Bay Park Fish Company as recommended by Elena. We had awesome fish tacos and Mitch had a mediocre glass of Malbec. Isadora, the saint baby, slept through the entire meal. Was easily transferred back to car, and then crib at hotel. Another early night for us too.
Our last full day in San Diego was unplanned. Mitch really wanted to go to LegoLand, but I was trying to convince him that it wouldn't be fun for Isadora–just a bunch of stroller rides back and forth with nothing age appropriate for her. It wouldn't be fun for me either as I had just thrown out my back the day before while tossing Isadora in the air. I didn't want to spend another day on my feet. I wasn't winning the argument though. And then, I threw down my trump card: the entrance fee was $65 per person. That got him. In all honesty, I really want Mitch to go to LegoLand. I know he will enjoy it. I promise we'll go next summer when Izzy is a little older, and I'm less hobbled.
We started out like the day before, stuffing ourselves on hotel buffet. We were walking back to the hotel trying to figure out what we would do for the day when I spotted a little shack on the beach with bicycles lined up next to it. I approached and realized it was a rental shop. Yay! We were outfitted with two beach cruisers; Mitch's had a trailer attached for Isadora to ride along. We rode north as far as we could, and then got lost in the bleakest trailer park I've ever seen. We finally found freedom and I was so relieved. I was beginning to go stir crazy looking at one sad, run down mobile home after another. I didn't see any people which was quite odd. I was starting to wonder if the place was inhabited by zombies and we had the good fortune of getting lost during the daylight hours when they were too afraid of the sun to come out and eat our brains. But I digress.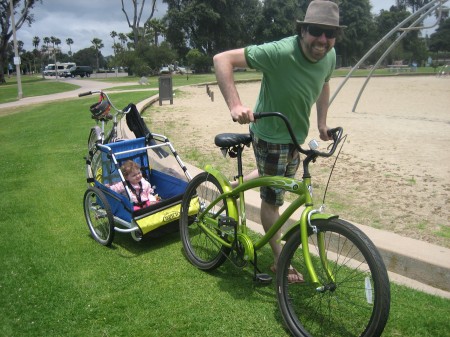 Mitch, being the sound navigator that he is, got us out of there before panic truly set in. We were back on the path south towards the hotel. There are acres and acres of parkland north and south of the hotel. We pulled over to one of the play areas to push Izzy in a swing. I don't think she's too impressed with swings.
We were done with our bike adventure and dropped them off at the rental shack. We discussed earlier about hiring a babysitter so we could go sailing or ride jet skis. I picked the Hilton specifically because they claimed to offer babysitting services. They don't really provide babysitting services; they provide a telephone number of a woman who will come to your room and babysit. There is a three hour minimum at $17. We passed.
Wondering what to do next, we spotted a little shack out on a pier. We approached and lo and behold, it is the watersports rental shop. Mitch inquired about an 18′ sailboat, and the next thing I know, the three of us are on a little tour of the cove. I was really scared. The only thing I know about sailing is that the boats often tip over. I don't know how to swim very well, so that had me terrified. Good thing I was so terrified, because it kept the seasickness at bay.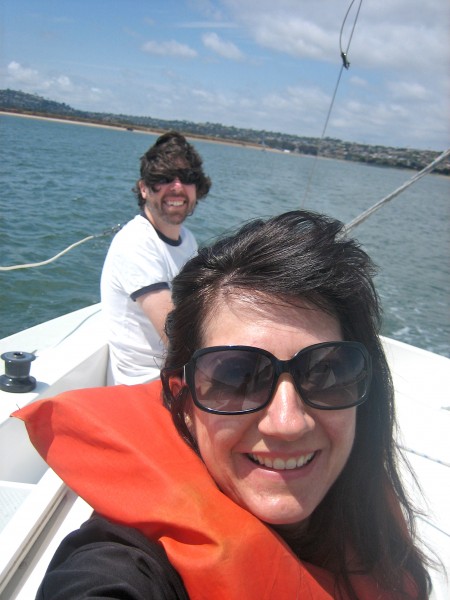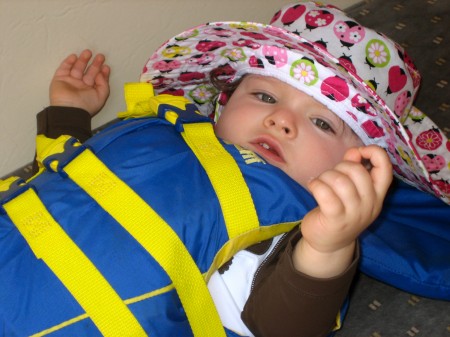 Mitch is a great sailor, and I was slowly becoming comfortable with the ride. In fact, there were several points during the trip where I downright enjoyed myself. I promised Mitch we can go sailing again. We returned the boat, and hopped into the pool.
It was time for dinner and we went to Hash House A Go Go. The server advised us that we ordered too much food, but we were starving and couldn't make choices. The Caesar salad was great! The sweet onion rings with chipotle sauce were divine. We could have shared a single entree, but we wanted different things. Mitch got the meatloaf with horseradish mashed potatoes. He was in love. I got the chicken and waffles with maple reduction sauce. Mitch was in love again. So was I. It was amazing. I wish I was able to bring it home with me. We were slightly disappointed that we ordered too much food when we heard what was on the dessert menu–snickers bread pudding! We almost ordered it, but decided against it. We cut our evening of gluttony short. Hash House has been around for a while. It'll be there when we go back. Oh yeah, Izzy slept all through this meal too!
Time to go home, so we packed up our suitcases and checked out of the hotel. We had some time before our flight took off, so we stopped by Mission Beach to play in the sand for a while. Izzy had fun putting disgusting things into her mouth. I had an adventure jamming my finger between her lips to dig out what ever she just crammed in there. Fun times.
We made it to the airport, dropped off the rental and checked our luggage. Izzy was mellow the whole time. Our flight was delayed, and I started to get antsy. I was ready to be back home. I was really missing the kitties. We finally boarded the flight and had an easy, albeit crowded, flight home. We picked up our suitcases and hopped on the parking shuttle back to our lovely little Prius. What a delightful car to drive after four days in that janky POS from Avis. A quick jaunt on the freeway and we were home in a matter of minutes (thank you I280).
As much as we loved our vacation, we love coming back home even more.